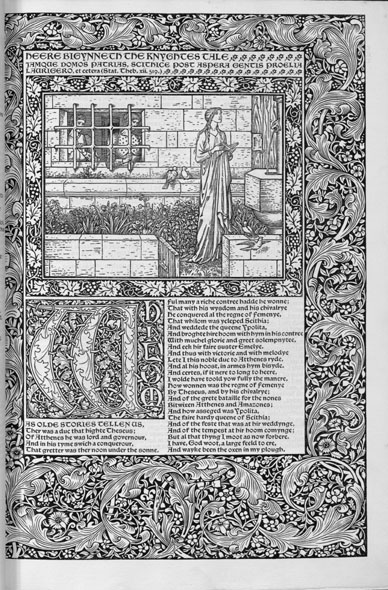 The works of Geoffrey Chaucer, printed by the Kelmscott Press, considered one of the most important books in the history of printing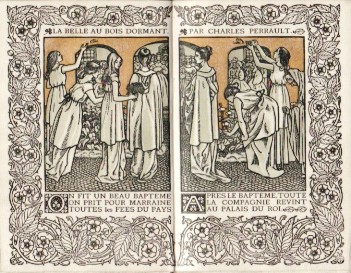 Le Belle Au Bois Dormant, by Charles Perrault, printed by the Eragny Press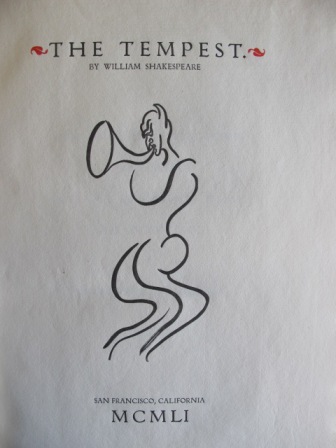 The Tempest, by William Shakespeare, printed by the Grabhorn Press
What is the Fine Printing Collection?
The Fine Press Collection showcases the evolution of the handmade book as a visual and cultural artifact. It connects the dots from the printing revival period launched by the English Arts & Crafts Movement in the late 19th century, which referenced medieval and renaissance aesthetics, to contemporary works.
Most of the books were made by independent printers, hand-set in letterpress, with handmade paper, and their overall design is an expression of the printers' creative approach to the text. Also included are broadsides, pamphlets and other kinds of ephemera from independent printers.
The Collection has a number of books produced by commercial presses if the printers, designers or illustrators involved are important names in the history of printing and bookmaking.
***To see a list of who is represented in the collection, click on the tab "Printers and Private Presses."
Some facts about the Collection
Earliest work is from William Morris's Kelmscott Press, 1892: The nature of Gothic, a chapter of the Stones of Venice, by John Ruskin.
Ward Ritchie '28, became a famous printer in Los Angeles. Works printed, designed or written by him make up the Ward Ritchie Collection.
Another Oxy alumnus, James Robertson '57, founded the Yolla Bolly Press with his wife, Carolyn. Oxy has 33 of their titles.
Current letterpress instructor at Oxy, Jocelyn Webb Pedersen, interned at Yolla Bolly. She had no idea that one day she'd be reviving the Book Arts program at Robertson's alma mater.
The influential Grabhorn Press from San Francisco is represented with over 240 works, plus boxes of ephemera.
About 80% of the collection comprises of American independent presses, with about half of that being from the Western states, mostly from California. Great Britain is the most well represented area from abroad.
Rare Books / Book Arts Librarian
Special Collections Librarian / College Archivist
Dale Ann Stieber
Contact Info
323-259-2852
dstieber@oxy.edu
Send Email